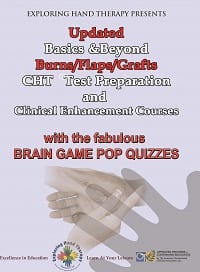 Basics and Beyond ® Burns, Flaps, and Grafts
CONTACT HOURS:
3 Hours
CEU:
0.3
AOTA:
Domain of OT, OTP,

Check Accreditation

STATE:
AL CE Broker 506938 3hrs
FL CE Broker 506938 3hrs
CA Advanced Hand 40-H51 3hrs

For Bundle discounts Click Here! BB Burns, Flaps, Grafts focuses on understanding the depth of burns & optimal treatment planning. 25 Brain Game "pop-up" quizzes & numerous photos to enhance your learning.
All courses single user only. Click Here for multi-user or licensure discounts info.
Description
This course is part of the Basics and Beyond series consisting of 20 chapters. It is exceptional for CHT exam preparation as well as to sharpen your clinical skills. Available as a single course or in bundles Click Here!
Domain of OT, Occupational Therapy Process,
BB Burns, Flaps, Grafts focuses on understanding the depth of burns & optimal treatment planning. This course will provide a fantastic overview and in-depth knowledge on the subject matter. This course is great to gain your foundation.
Mixed level: Intermediate. Online digital book, numerous photos and 25 Brain Game "pop-up" quizzes throughout the course to solidify your knowledge. ONLINE LIVE CHAT and discussion board available. 80% required to redeem your certificate via an online exam consisting of <20 questions. Certificate will be immediately emailed to you upon successful completion.
Objectives
This course has 25 Brain Game "pop-up" quizzes throughout the course content and numerous photos to enhance your learning. This course has "live chat" with an EHT moderator during the course and it has a discussion room for course participant interaction.
Identify key evaluation aspects in regards to burns, flaps, grafts
Differentiate Surgical Intervention and Reconstruction techniques
Recognize Immersive Virtual Reality used as a pain management modality
Identify critical wound care terms, identifying markers, and characteristics to improve your POC
Identify complications that may occur in a burned hand/upper extremity
Outline
Burn Classification
Evaluation
Surgical Intervention
Pain Management
ROM
Wound Care
Pressure Garments
Complications
25 Brain Game "pop-up" quizzes throughout this course to enhance your learning experience. Great fun.
Live Chat during course hours and a participant discussion board
References and Examination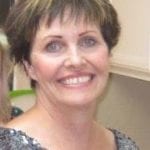 Terri Roberts earned her doctorate degree in Occupational Therapy at Rocky Mountain University in Provo, Utah in 2013. She completed her Masters of Science degree in Occupational Therapy at Belmont University in Nashville, Tennessee. Terri is a CHT and has been a clinical practitioner for seventeen years. Specialty areas besides hand therapy include burns and lymphedema management. Terri is currently in private practice and employed by California Orthopedic Institute.
She has also held occupational therapy positions at University of California San Diego and Therapy Specialists. Dr. Roberts is an Assistant Professor in the MOT program for the University of St. Augustine's for Health Sciences, San Marcos, California where she teaches Orthotics and Prosthetics, Biomechanical Interventions and Physical Agent Modalities
Participants have one year to access the CEU course and exam to obtain CEUs.
NBCOT® is a registered trademark of the National Board for Certification in Occupational Therapy, Inc. and does not promote or endorse our specific courses, services or training.

Treatment2go is an AOTA Approved Provider of professional development. PD approval ID #3397. This distance learning-independent activity is offered at 0.3 CEU's, intermediate, foundational Knowledge. The assignment of AOTA CEU Does not imply endorsement of specific Course content, products, or clinical Procedures by AOTA.