Basics and Beyond ® Physical Agent Modalities
CONTACT HOURS:
3 Hours
CEU:
0
AOTA:
Domain of OT, OTP,

Check Accreditation

STATE:
AL CE Broker 20-489275 3hrs
FL CE Broker 20-489275 3hrs
CA Advanced Hand 40-H64 3hrs

For Bundle discounts Click Here! BB PAMs focuses on key areas to improve your clinical knowledge and skills pertaining to physical agent modalities.
All courses single user only. Click Here for multi-user or licensure discounts info.
Description
This course is part of the Basics and Beyond series consisting of 20 chapters. It is exceptional for CHT exam preparation as well as to sharpen your clinical skills. Available as a single course or in bundles. Click Here!
Domain of OT, Occupational Therapy Process,
BB Physical Agent Modalities focuses on key areas to improve your clinical knowledge and skills pertaining to the use of physical agents. It provides you methods on how to use and apply thermal and electrical agents. This course is great to gain your foundation.
Mixed level: Intermediate. Online digital book, with 2 video clips, 51 photos, 19 Brain Game quizzes throughout the course to solidify your knowledge. ONLINE LIVE CHAT and discussion board. 80% to redeem your certificate via an online exam consisting of <20 questions. Certificate will be immediately emailed to you upon successful completion.
Objectives
This course has 15 Brain Game "pop-up" quizzes throughout the course content and numerous photos to enhance your learning. This course has "live chat" feature with an EHT moderator during the course hours and it has a discussion room for course participant interaction.
Distinguish superficial heating considerations
Recognize the various modes of transfer of heat to tissue
Recognize specific modalities for specific pathologies and goals
Determine Ultrasound application and energy transfer
Identify primary indications for electrotherapy
Differentiate between phonophoresis and Iontophoresis indications, benefits, and precautions
Outline
Introduction
Superficial heating considerations
Modes of heat transfer
Tissue heating
Hot packs
Paraffin
Fluidotherapy
Whirlpool
Cold effects
Vapocoolant sprays
Contrast baths
Ultrasound
Phonophoresis
Electrical therapy
Iontophoresis
Biofeedback
Light therapy
References
Examination; 80% to pass and redeem your certificate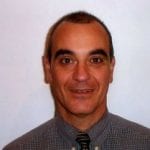 Paul Bonzani is a graduate of the Occupational Therapy program at New York University. After 10 years in general rehabilitation practice, Paul specialized in hand and upper extremity orthopedics in 1988. He has been the clinical director of three major university programs and has been performing continuing education seminars in the areas of upper extremity orthopedics, peripheral nerve rehabilitation, physical agent modalities and repetitive stress injuries since 1994. He is the author of multiple book chapters and journal articles ranging from repetitive stress injuries to reconstructive microsurgical rehabilitation.
After 27 years of clinical practice, Paul has completed his MHS from the University of Florida in 2007. Paul now resides in Manchester, N.H. and is the clinical lead in hand therapy at Concord Hospital in Concord, New Hampshire.
Participants have one year to access the CEU course and exam to obtain CEUs.
NBCOT® is a registered trademark of the National Board for Certification in Occupational Therapy, Inc. and does not promote or endorse our specific courses, services or training.

Treatment2go is an AOTA Approved Provider of professional development. PD approval ID #3397. This distance learning-independent activity is offered at 0 CEU's, intermediate, foundational Knowledge. The assignment of AOTA CEU Does not imply endorsement of specific Course content, products, or clinical Procedures by AOTA.