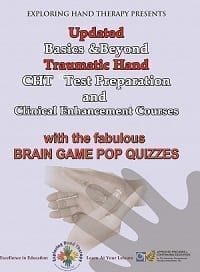 Basics and Beyond ® Traumatic Hand
CONTACT HOURS:
4 Hours
CEU:
0.4
AOTA:
Domain of OT, OTP,

Check Accreditation

STATE:
AL CE Broker 20-513120 4hrs
FL CE Broker 20-513120 4hrs
CA Advanced Hand 40-H65 4hrs

For Bundle discounts Click Here! BB Traumatic Hand focuses on understanding the practical aspects of challenging mutilating hand injuries.
All courses single user only. Click Here for multi-user or licensure discounts info.
Description
This course is part of the Basics and Beyond series consisting of 20 chapters. It is exceptional for CHT exam preparation as well as to sharpen your clinical skills. Available as a single course or in bundles Click Here!
Domain of OT, Occupational Therapy Process,
BB Traumatic Hand focuses on understanding the practical aspects of challenging mutilating hand injuries. This course will provide a fantastic overview of the UE. Specific details are covered in more depth in each individual course subject matter. This course is great to gain your foundation.
Mixed level: Intermediate. Online digital book, with video clips, photos, and 32 Brain Game quizzes throughout the course to solidify your knowledge. ONLINE LIVE CHAT and discussion board. 80% to redeem your certificate via an online exam consisting of <20 questions. Certificate will be immediately emailed to you upon successful completion.
Objectives
This course has 32 Brain Game "pop-up" quizzes throughout the course content, multiple photos and 2 video clips to enhance your learning. This course has "live chat" feature with an EHT moderator during the course and it has a discussion room for course participant interaction.
Determine POC for devastating hand injuries
Identifying significant anatomical considerations when treating traumatic injuries
Differentiate assessments chosen to determine the client's current level of functioning to establish your POC
Recognize wound characteristics such as size, shape, exudate, wound bed, & infection
Identify psycho-social issues through your assessment and implement intervention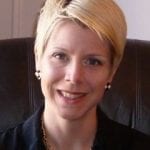 Ms. Forget is an occupational therapist, faculty lecturer at McGill University and PhD candidate in public health (epidemiology). Her research interests are in hand rehabilitation, psychometrics, hand kinematics, and education. She is currently developing a patient-reported outcome to measure participation for people affected with Dupuytren's contracture and studying its psychometric properties using classical test and item response theories (Rasch analysis). Her recent research activities were concentrated on the investigation of the validity of frequently used patient-reported outcome measures used in hand rehabilitation, with a special interest on the DASH for use with people affected by Dupuytren's contracture. She was also involved in the development of normative data to describe normal skin's characteristics. Finally, she is the investigator of a project aiming at the development of a learning tool for students or junior therapists to help the clinical reasoning process in hand rehabilitation.
Participants have one year to access the CEU course and exam to obtain CEUs.
NBCOT® is a registered trademark of the National Board for Certification in Occupational Therapy, Inc. and does not promote or endorse our specific courses, services or training.

Treatment2go is an AOTA Approved Provider of professional development. PD approval ID #3397. This distance learning-independent activity is offered at 0.4 CEU's, intermediate, foundational Knowledge. The assignment of AOTA CEU Does not imply endorsement of specific Course content, products, or clinical Procedures by AOTA.