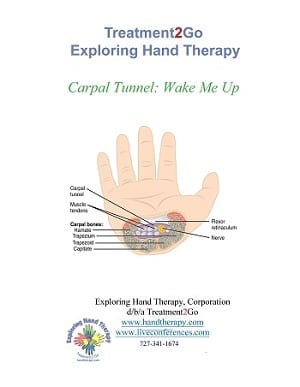 Carpal Tunnel – Wake Me Up!
CONTACT HOURS:
6 Hours
CEU:
0.6
NBCOT®:
7.5 PDUs
STATE:
AL CE Broker 20-515085 6hrs
FL CE Broker 20-515085 6hrs
CA Advanced Hand 40-H84 6hrs

This interactive digital book has movie clips throughout and wonderful photos to learn from. It is a mixed learning level course.
All courses single user only. Click Here for multi-user or licensure discounts info.
Description
CA 40-H84 Advanced Hand 6 Hours
This interactive digital book has movie clips throughout and wonderful photos to learn from. It is a mixed learning level course. Explore CTS from anatomical contributions, how to modify the space in the carpal canal to decrease symptoms, to assessment, and post surgical management. Online digital book, numerous photos throughout the course to solidify your knowledge.
ONLINE LIVE CHAT and discussion board available. 80% required to redeem your certificate via an online exam consisting of 50 questions. Certificate will be immediately emailed to you upon successful completion.
Objectives
Clinician will be able to understand the anatomical structure of the carpal tunnel and how this contributes to compression of the median nerve.
Clinician will be able to identify causative factors which contribute to carpal tunnel syndrome symptoms and how these must be considered during the course of treatment.
Clinician will demonstrate understanding of how joint positions and external forces contribute to increasing pressure or volume within the carpal tunnel and exacerbate the progression of carpal tunnel syndrome.
Clinician will understand how modifying joint positions during activities can be a vital part of the treatment plan to prevent compression of the median nerve.
Clinician will demonstrate competence when selecting tools for assessment of patient with carpal tunnel syndrome.
Clinician will demonstrate understanding of treatment interventions commonly used for conservative management of carpal tunnel syndrome and how to select appropriate measures for their patients.
Clinician will have an understanding of common surgical techniques for carpal tunnel syndrome and measures that can be taken to optimize a patient's recovery following surgery
Outline
Understanding Carpal Tunnel Syndrome

 Defining Carpal Tunnel Syndrome
Understanding the Boundaries and Anatomy of the Carpal Canal
Contents of the Carpal Tunnel
The lumbricals and How they Affect Carpal Tunnel Syndrome
Carpal Tunnel Syndrome Causative Factors

Carpal Tunnel Volume and Pressure

Normal Carpal Tunnel Pressure
Factors Which Affect Carpal Tunnel Volume and Pressure
1. Finger Position
2. Thumb Position
3. Wrist Position
4. Forearm Position
5. Grip
6. Pinch
7. External Compressive Forces

Diagnosing Carpal Tunnel Syndrome

Levels of Compression and Symptom Presentation
Patient History
Physical Examination
. Objective Testing
Provocative Testing
IV. Conservative Treatment: Does it Really Help?
Splinting
Modalities
Therapeutic Exercises
Kinesiotaping
Manual Therapy
Activity Modification

Surgery

Open Carpal Tunnel Release
 Endoscopic Carpal Tunnel Release

 Improving Outcomes Following Surgery

. Possible Postoperative Complications
Therapy Following Surgery
Wound Management
Splinting
Therapeutic Exercises
. Edema Management
. Scar Management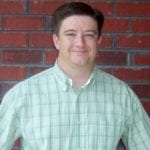 George LaCour, OTR, CHT graduated with a B.S. degree in Occupational Therapy from Louisiana State University Medical Center in 1997. In 2003, he received his Certification in Hand Therapy. George worked for 9 years at a state-funded charity hospital where he developed a love for hand therapy and trauma rehabilitation. During this time he also served as Director of Rehabilitation. Currently, George works in a busy orthopaedic and sports medicine clinic where his focus is on treatment of upper extremity orthopaedic injuries with emphasis on work-related injury and sports medicine. Aside from his busy schedule, George still finds time to teach continuing education as well as serve as guest lecturer for LSUHSC School of Occupational Therapy. His career will always be dedicated to patient care, education,
Participants have one year to access the CEU course and exam to obtain CEUs.
Treatment2go is an AOTA approved provider ID #3397. The assignment of AOTA CEUs does not imply endorsement of specific course content, products, or clinical procedures by AOTA.
NBCOT® is a registered trademark of the National Board for Certification in Occupational Therapy, Inc. and does not promote or endorse our specific courses, services or training.