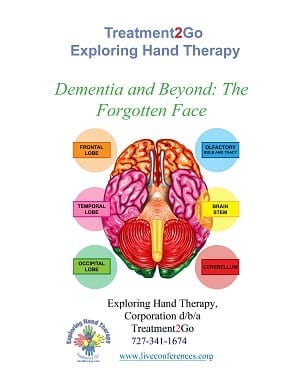 Dementia and Beyond: The Forgotten Face (OT)
CONTACT HOURS:
3 Hours
CEU:
0.3
AOTA:
Domain of OT, OTP,

Check Accreditation

NBCOT®:
3.75 PDUs
STATE:
AL CE Broker 20-542040 3hrs
FL CE Broker 20-542040 3hrs

This is an introductory level course. Dementia is a broad category of diseases that affects the brain and its ability to think and remember. This course is designed to explore the variety of disorders that comprise dementia, including Alzheimer's disease
All courses single user only. Click Here for multi-user or licensure discounts info.
Description
CEU: .3 FL /AL OT CE Broker 20-542040
ContactHours: 3
We Report to CE broker NBCOT® 3.75 PDUs
Domain of OT, Occupational Therapy Process
Description
This is an introductory level course. Dementia is a broad category of diseases that affects the brain and its ability to think and remember. This course is designed to explore the variety of disorders that comprise dementia, including Alzheimer's disease. Causes, risk factors, stages of memory loss and therapeutic tools will be explored. The learner will increase skills and knowledge regarding Alzheimer's disease and other related disorders, as well as how to support family/friends in their role as caregiver. This course is intended for social workers, mental health counselors, occupational therapists, occupational therapy assistants and marriage and family therapists. To complete, the course must be viewed in its entirety with an 80% or greater score on the post test. Resources are available at the end of the course.
Objectives
Recognize the difference between dementia disorders and Alzheimer's disease.
Identify related dementia disorders
Identify secondary causes and risk factors of dementia and related disorders
Determine the stages of Alzheimer's
Differentiate between normal aging and Alzheimer's disease
Identify therapeutic approaches and communication tools
Review behavioral changes in Alzheimer's patients
Identify signs and symptoms of caregiver fatigue
Recognize the signs and symptoms of abuse
Outline
Define dementia

Dementia versus Alzheimer's disease
Alzheimer's disease as the leading cause of dementia-related death

How is dementia diagnosed?

Common and recognizable symptoms
Physician visit

Medical history
Physical exam
Mental assessment

C. Brain scans

CT
MRI
PET
SPECT

Related dementia disorders-the definitions of

Vascular dementia
Alzheimer's disease
Mixed dementia
Stroke
Pick's disease
Lewy Body Dementia
Parkinson's disease
Huntington's disease
Normal pressure hydrocephalus

Secondary causes of dementia-exploration and definition of

Medications
Vitamin deficiency
Infectious diseases

HIV
Meningitis
Encephalitis

Creutzfeldt-Jakob disease
Metabolic disorders
Depression
Brain tumors
Environmental factors

Alcohol and illegal drugs
Anoxia
Poisoning

Brain images

Normal brain
Brain affected by Alzheimer's disease

How the cortex is affected
Changes in the hippocampus
Changes in the ventricles

Organic issues

Abnormal protein

Tau proteins
Amyloid proteins

Genetic mutations

Early onset and identified genes
Late onset and identified genes

Risk factors associated with Alzheimer's disease

Age
Alcohol
Atherosclerosis
Diabetes
Down Syndrome
Genetics
Hypertension
Depression
Smoking

Stages of Alzheimer's disease

Three stages

Early, Mild, Severe

FAST scale/7 stages

Detailed exploration of each stage in the FAST scale

Normal aging versus Alzheimer's disease

Exploration of normal aging forgetfulness
Exploration of forgetfulness and confusion associated with Alzheimer's disease

Therapeutic approaches to people with Alzheimer's disease

Medications
Maintaining independence

Role of the caregiver

Communication

Use of memory devices

Activities of daily living
Assistive devices

Medical
Non-Medical

Communication Tools

Suggestions for professionals working with Alzheimer's patients

Identify self
Use of the patient's name
Using a soft voice
Acceptance
Patience
Active listening
Non-verbal cues

Behavioral challenges in people living with Alzheimer's disease

Sundown syndrome

Definition of
Interventions

Sleep disturbances

Causes and interventions

Wandering behaviors

Definition
Causes and interventions

Hallucinations, delusions and paranoia

Definition
How to respond to psychotic behaviors

Repetitive behaviors

Echolalia
Repeating activities

Hoarding

Definition
Examples of hoarding
How to respond

Help for caregivers

Caregiver fatigue
Suggestions to support caregivers

Support groups
Local Alzheimer's Association chapter
Physical health interventions
Help from family, friends and neighbors

Abuse of Alzheimer's patients

Definition of the types of abuse

Physical
Emotional
Sexual
Financial
Involuntary seclusion
Abandonment

Signs and symptoms of abuse
Reporting suspected abuse
Check out the powerful Book" I Will Never Forget" written by a fellow OT Elaine Pereira – the book has won dozens of rewards!
This is a "must have" partner book to really get into the reality of this devastating disorder.