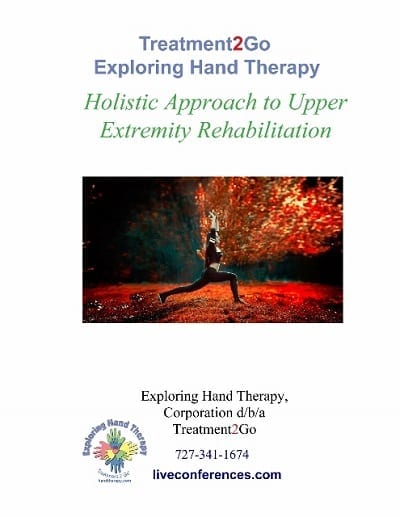 Holistic Approach to Upper Extremity Rehabilitation Part 1
CONTACT HOURS:
1.25 Hours
CEU:
0.125
AOTA:
Domain of OT, OTP,

Check Accreditation

NBCOT®:
1.5 PDUs
STATE:
AL OT C 1.25hrs
FL OT 20-680160 1.25hrs

All courses single user only. Click Here for multi-user or licensure discounts info.
Description
*University & multi-center Licensure available upon request; all courses single user only
*1.25 NBCOT® PDUs
*Order online viewing to save
*Watch on your idevices, smart phones, tablets and MORE
Domain of OT, Occupational Therapy Process,
This series will elevate your clinical practice to address your patients care from a complementary and integrative health perspective. Research has continued to grow and demonstrate the efficacy of alternative health practices. This course will facilitate your progression of implementing holistic treatment of the whole individual into your hand and upper extremity practice. You can view each segment as individual courses but the 4 parts together are recommended for a preferred understanding of the concepts and practices introduced. Part 1: Introduction to the holistic approach to upper extremity rehabilitation and the use of meditation/mindfulness in OT practice
Objectives
Participants will identify evidence-based complementary health methods within occupational therapy scope of practice as they relate to the rehabilitation of individuals with upper extremity pathology.
Participants will, through active learning exercises, execute complementary health methods on themselves in order to integrate and critique specific reviewed techniques.
Participants will receive a synthesized review of psychosocial principles, specific complementary techniques, and occupation-based practice to incorporate optimal holistic interventions into client-centered treatment plans for individuals with upper extremity impairments.
Outline:
Self-reflection
Agenda
Introduction to holistic care
Review of complementary health approaches
Meditation and Mindfulness
Concept overview
Evidence to support practice
Ideas for Implementation
Case Study
Learning activity (Guided meditation)
Self-Reflection
Post-test
References
Andrea Garcia, OTD, MSW, OTR/L received her bachelor of science in occupational therapy from Elizabethtown College in 1999, her master's degree in social work from Rutgers University in 2005, and her doctorate in occupational therapy from The University of Kansas in 2018. Dr. Garcia is certified in holistic and integrative health and as a Reiki Master/Teacher.
She is the owner of Holistic Healing Hands NJ, a Reiki healing and training company. She works full time as a center manager and occupational therapist for Kessler Rehabilitation Center in Howell, NJ, and is on adjunct faculty at Stockton University. Dr. Garcia has co-authored and presented at the local, state, and national levels on psychosocial aspects of physical rehabilitation, holistic and integrative health, and various upper extremity topics.
Participants have one year to access the CEU course and exam to obtain CEUs.
NBCOT® is a registered trademark of the National Board for Certification in Occupational Therapy, Inc. and does not promote or endorse our specific courses, services or training.

Treatment2go is an AOTA Approved Provider of professional development. PD approval ID #3397. This distance learning-independent activity is offered at 0.125 CEU's, intermediate, foundational Knowledge. The assignment of AOTA CEU Does not imply endorsement of specific Course content, products, or clinical Procedures by AOTA.