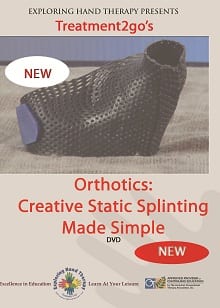 Orthotics: Creative Static Splinting Made Simple
CONTACT HOURS:
7 Hours
CEU:
0.7
AOTA:
Domain of OT, OTP,

Check Accreditation

NBCOT®:
8.75 PDUs
STATE:
AL OT 20-315459 7hrs
FL OT 20-315459 7hrs
CA Advanced Hand 40-H70 7hrs

A mixed level up to intermediate level & advanced level splinting workshop featuring immobilization splints (static) for the upper extremity. The instructional format includes a didactic lecture to include PowerPoint, demonstrations, video, audio, step by step instructions with splint patterns and much more. Splint material and course instructor provided by Orift America Corp.
All courses single user only. Click Here for multi-user or licensure discounts info.
Description
*University & multi-center Licensure available upon request; all courses single user only
*8.75 NBCOT® PDUs
*One of a kind, informative, up close and personal fantastic splinting course. MUST HAVE!
*Watch on your idevices, smart phones, tablets and MORE
Domain of OT, Occupational Therapy Process
This is a mixed level learning up to intermediate and advanced level splinting workshop featuring immobilization splints (static) for the upper extremity. Course splinting material and instructor graciously supplied by Orfit America. The instructional format includes a didactic lecture to include PowerPoint presentation on the principles of immobilization, up close and personal splint examples, followed by detailed splint fabrications, splint critique and allotted follow along lab time for participants to fabricate splints. Participants will also become familiar with MARKETPLACE splints to compliment their customized splints.
Participants manual (over 125 pages in FULL COLOR) will include splint patterns, photos, FAQ, and occupation based principles relating to immobilization splinting. Participants will be introduced to the knowledge requirements of splint fabrication, including upper extremity anatomy, stages of wound healing, and the characteristics of a variety of different splinting materials. Participant's will gain knowledge in making clinical decisions regarding the use of appropriate materials for immobilization splints with their clients and how splinting is used in the occupation based approach. Participants will have the opportunity to watch and fabricate immobilization splints for the elbow, wrist, forearm, thumb, and fingers.
Mixed level learning course – Instructional Methods include PowerPoint presentation, lecture, and video to enhance understanding. Upon successful completion of the examination (80%) your certificate will be sent via email.
Objectives
Identify the indications, precautions and contraindications for the use of immobilization splinting with your clients.
Recognize the mechanical principles involved in fabrication of low temperature thermoplastic immobilization splints for the upper extremity.
Identify the hand anatomy and how orthotics will improve altered pathology
Identify the properties and characteristics of various splinting materials.
Determine how orthotics will be used to modify the biomechanical principles of muscle function
Identify the anatomical knowledge base required to fabricate immobilization splints.
Review orthotic interventions and how they will influence postoperative care of the upper extremity
Delineate the necessary steps required to fabricate and fit immobilization splints to the upper extremity.
Visualize tissue healing as it related to orthotic application to facilitate healing
Identify and critique a variety of splinting materials for different purposes.
Recognize how to design, fabricate, apply, fit and train in orthotic devices used to enhance occupational performance.
Recognize various marketplace splints to compliment clinical practice
Gain knowledge of tips and tricks for the fabrication of mobilization splinting.
Includes
Over 125 pages FULL COLOR manual
The BEST way to learn splinting – now you can watch, rewind and replay – NEVER miss a step again!
Tips and tricks you won't learn at your average splinting course!
9 splints fabricated for up close & personal learning

Elbow flexion splint
Circumferential wrist splint
Long opponens splint
Short opponens splint
Resting hand splint
Wrist cock-up splint
Circumferential finger splint
Anti-swan splint
Mallet finger splint

Overview of marketplace splints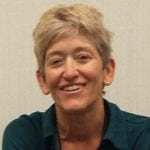 Debby Schwartz is a certified hand therapist with over 30 years of experience as a practicing clinician. She joined Orfit Industries America to promote product awareness and splinting education. Debby is an active member of ASHT and has participated in IFSHT meetings as well. She has presented on a variety of hand therapy topics both at national and international conferences, and has written a number of articles for hand therapy publications, including a literature review of static progressive orthoses and a systematic review of joint mobilizations. She has recently written several book chapters for hand therapy references, including a chapter on pediatric orthoses. Debby completed her Doctorate of Occupational Therapy from Rocky Mountain University of Health Professions.
Participants have one year to access the CEU course and exam to obtain CEUs.
NBCOT® is a registered trademark of the National Board for Certification in Occupational Therapy, Inc. and does not promote or endorse our specific courses, services or training.

Treatment2go is an AOTA Approved Provider of professional development. PD approval ID #3397. This distance learning-independent activity is offered at 0.7 CEU's, intermediate, foundational Knowledge. The assignment of AOTA CEU Does not imply endorsement of specific Course content, products, or clinical Procedures by AOTA.