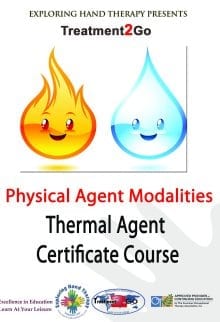 Physical Agents: A Thermal Modalities Certification Program: Occupation-Based Implementation of Thermal Agent updated
CONTACT HOURS:
20 Hours
CEU:
2
AOTA:
OTP,

Check Accreditation

NBCOT®:
25 PDUs
STATE:
AL OT 20-232590 20hrs
FL OT 20-232590 20hrs
TN 45hrs
MD 20hrs
NE 20hrs
MT 20hrs
KY 2017-01 20hrs
CA 40-P3 20hrs
GA 20hrs
TX 20hrs
SD 20hrs
IL 20hrs
ID 4489 20hrs

This comprehensive NBCOT® 25 PDU (2.0 AOTA CEU approved provider) course provides you with the clinical knowledge to safely administer thermal modalities in a functional occupationally based approach. Exploring Hand Therapy DBA Treatment2go is an Approved Provider.
All courses single user only. Click Here for multi-user or licensure discounts info.
Description
AOTA approved 20 PDUs * 25 NBCOT® PDUs; GA-up to 36 hours M
20 hrs sound/superficial – 20 hrs Electrical/Deep. Ionto 5 hrs; ID approval #4489; NOTE: KY, MT & ID requires thermal/electrical;; TN 45 hours; NE, CA 40-P3, MD, FL MT: IDAHO approved #4489, KY approved for didactic work 36 hours 2018-02 (lab – not included). Course accepted in most states accepting AOTA. Always check with your state Board
Course carried by the AOTA – it is occupation based and meets AOTA requirements. Exploring Hand Therapy DBA Treatment2go is an Approved Provider. This comprehensive excellent 20 contact (25 NBCOT® PDUs; 2.0 AOTA APP CEU) approved course provides you with the clinical knowledge to safely administer thermal modalities in a functional occupationally based approach. We will review current occupational therapy terminology and philosophy to establish the theoretical basis for the use of thermal agent modalities into occupational therapy practice. Evidence identifying effectiveness of each thermal modality intervention is presented as well as the step by step practical application of each device.
We assist you in obtaining the training and continuing education you may need to comply with state requirements. Please check with your state licensing and regulatory board to determine what your specific state requirements may be. This course was developed to educate practitioners in the proper, safe and judicious use of physical agent modalities while treating their clients. The format includes lecture, demonstration and practicum, case study presentation with emphasis on treatment planning and assessing effectiveness. A post test format is employed to demonstrate mastery of the material presented and a certificate will be emailed immediately upon (80%) successful completion. Mandatory reading in the 140 page manual and includes required reading to enhance your learning experience.
This course can be purchased independently (20 contact hours) or as part of our comprehensive 45 Occupation Based PAMS series consisting of Thermal and Electrical modalities. Many states have clinical requirements which can be found in the manual and completed independently. A MUST HAVE COURSE to provide the education and skills needed to perform modalities safely.
Objectives
Differentiate physical impairments from deficits in occupational performance
Delineate the biological, psychosocial, and contextual issues resulting in impairment of occupation engagement
Identify the biological, psychosocial and contextual problems that could be enhanced through the use of physical agent modalities
Determine the appropriate intervention following careful assessment of the underlying biological, psychosocial and contextual pathology
Distinguish which underlying biological process is enhanced through the use of an appropriate physical agent modality
Recognize effective responses from ineffective ones and adjust interventions accordingly
Recognize transdermal drug delivery adverse reactions
Review the application and storage of specific pharmacological agents
Identify precautions relating to transdermal drug delivery
Recognize the indications and contraindication of Diathermy shortwave or microwave modality
Online exam – certificate will be immediately emailed to you. 80% to pass
Extensive exam to help solidify your understanding of electrical agents
Outline
The relevance of physical agent modality intervention to occupational therapy practice.
Evidence Based: The Biological Basis of tendonitis/tendonopathy
Principles of hydrotherapy
Thermodynamics: The Physics of Heat Transference: Deep and superficial
Clinical Decision Making and Application of Thermal Agents -Deep and superficial
Biophysical Principles and evidence based principles of Sound
Clinical Application and evidence based use of Ultrasound to include equipment safety, demonstrations, case studies, precautions and indications
Application to Practice: Case Studies discussion
Clinical and biophysical discussion and evidence based principles about transdermal drug delivery class, contraindication, precautions, side effects & dosage
Deep and Superficial exam consisting of a total of 141 questions to help solidify your understanding – 80% required to pass an receive certificate
Phonophoresis principles and evidence based principles, applications, and pharmacological side effects, precautions and indications
Demonstrations of modality application to include discussion on equipment safety
Biophysical response to wounding and evidence based principles and how deep and superficial agents apply
Extensive indications, precautions, contraindications and patient safety for all deep and superficial agents discussed
Documentation examples and considerations
Extensive manual consisting of 200 pages to include power point presentation, Chapter into "talking points", and FAQ
Interactive discussion forum with access to instructors 24/7
Delineate current concepts of pain propagation and potential for alteration of pain perception using Deep and Superficial Agents
Approved in: FL, GA, KY, MT, AL, TX, NE, TN, MD, KY, CA, ID, IL
KY approval # 2019-03 36 hours (KY labs and proctored sessions not included)
IL Lic# 224000176 approved for didactic work 20 hours (labs and proctored sessions not included)
45 Hours included online Movies and Manuals – Lab sessions constitute additional time
Certificate of completion provided after examination is successfully finished
Exploring Hand Therapy DBA Treatment2go is an Approved Provider.
Note: Liveconferences.com is your video provider not the CE provider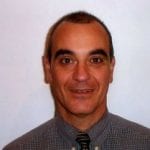 Paul Bonzani is a graduate of the Occupational Therapy program at New York University. After 10 years in general rehabilitation practice, Paul specialized in hand and upper extremity orthopedics in 1988. He has been the clinical director of three major university programs and has been performing continuing education seminars in the areas of upper extremity orthopedics, peripheral nerve rehabilitation, physical agent modalities and repetitive stress injuries since 1994. He is the author of multiple book chapters and journal articles ranging from repetitive stress injuries to reconstructive microsurgical rehabilitation.
After 27 years of clinical practice, Paul has completed his MHS from the University of Florida in 2007. Paul now resides in Manchester, N.H. and is the clinical lead in hand therapy at Concord Hospital in Concord, New Hampshire.
Participants have one year to access the CEU course and exam to obtain CEUs.
NBCOT® is a registered trademark of the National Board for Certification in Occupational Therapy, Inc. and does not promote or endorse our specific courses, services or training.

Treatment2go is an AOTA Approved Provider of professional development. PD approval ID #3397. This distance learning-independent activity is offered at 2 CEU's, intermediate, foundational Knowledge. The assignment of AOTA CEU Does not imply endorsement of specific Course content, products, or clinical Procedures by AOTA.