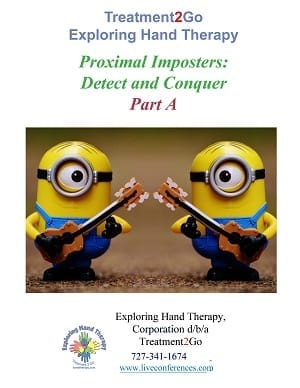 Proximal Imposters Detect and Conquer Part A
CONTACT HOURS:
3 Hours
CEU:
0.3
AOTA:
Domain of OT, OTP,

Check Accreditation

NBCOT®:
3.75 PDUs
STATE:
AL CE Broker 20-577355 3hrs
FL CE Broker 20-577355 3hrs

4-part Series – An Evidence Based Practice Approach. You can purchase this as a single course or as a discounted 4 pack: CLICK HERE
Description
Proximal Imposters Revealed – this is part of a 4 part course. Each section can be purchased individually or as a package for a discount.
Domain of OT and Occupational Therapy Process
4-part Series – An Evidence Based Practice Approach. You can purchase this as a single course or as a discounted 4 pack: CLICK HERE. This seminar series is a MUST HAVE for professionals in any practice setting that deals with the musculoskeletal system. After reading and watching this brilliant series you will be confident in your skills in assessing proximal imposters of the cervical and thoracic spines as well as the shoulder. You must have the knowledge to screen individuals to determine if the pain they present with is driven by the musculoskeletal system or elsewhere.
Delaying proper treatment due to poor diagnosis is detrimental to a patient's well being. The sooner a patient with a non musculoskeletal issue is referred to the correct practitioner, the sooner the patient will receive the best and most appropriate treatment. Join Debra Dent, BPT, Dip Manip PT, OCS, FCAMPT, as she brings her 40 years of experience together in this dynamic seminar to explore serious pathologies and diseases of the trunk and spine.
Demonstration of appropriate physical tests and scans for the cervical and thoracic spines will be clearly presented so you will have an ability to safely repeat these tests in your clinic. Screening and physical testing will be reviewed in respect to the latest evidence on the reliability and validity of these tests.
Each part of this series can be viewed individually but it the entire series is recommended for complete training in proximal differential diagnosis. This course is a mixed learning level. Must pass (80%) online exam to redeem your AOTA APP certificate.
Objectives
Recognize the importance of the subjective evaluation and history in the process of differential diagnosis
Identify red and yellow flags for the cervical and shoulder girdle.
Review the differences in statistical terms as it relates to Clinical Prediction Rules and screening
Determine the advantages and disadvantages of Clinical Prediction Rules.
Identify four pain patterns that are not caused by a musculoskeletal issue.
Are you current with understanding clinical prediction rules?
Red Flags, Yellow Flags, Blue Flags: What are the differences?
Learn an approach to gain confidence in discerning types of insidious diseases
Mandatory questions to make your subjective exams easy
Screen pain that appears to be from the musculoskeletal system, though may not actually be from where you thought!
Explore precautions and contraindications of manual therapy on the spine
Determine if presenting symptoms are a red or yellow flag
Obtain tools to discern if pain and symptoms are within your realm to treat
Watch 5 amazing videos to enhance your understanding of these complex issues.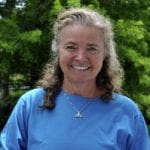 Debra Dent is a Physical Therapist with 40 years of experience specializing in manual therapy of the spine. She is a graduate of the University of Manitoba, Canada where she received her Diploma of Physiotherapy in 1977 and her Bachelors of Physical Therapy in 1979. She was certified as a Part A Manual Physical Therapist from the Canadian Physiotherapy Association in 1989 and received her Advanced Diploma of Manual and Manipulative Physiotherapy in 1994 (FCAMPT). Orthopedic Certified Specialist (OCS) designation was completed in 1996 and recertified in 2006 and 2016 as Emeritus. Debra is a Fellow of the Canadian Academy of Manual Therapists (FCAMPT) since 1994 and was an instructor for the Canadian Physiotherapy Association prior to moving to the USA. She was a guest clinical instructor at the University of South Florida from 2003-05, teaching the Spinal Manual Therapy Program for the MscPT undergraduate program. She has taught a large number of manual therapy courses in the US and Canada. She wrote the Segmental Stabilization of the Lumbar Spine for Northeast Seminars Online programs. She owns Cross Border Seminars and presently works as a consultant and contract PT in Palm Harbor Florida. Her primary case load is Rheumatology patients and deals with a multitude of dysfunctions related to those diseases as well as aging and osteoporosis. She is a photographer, captain/sailor and an avid runner.
Participants have one year to access the CEU course and exam to obtain CEUs.
NBCOT® is a registered trademark of the National Board for Certification in Occupational Therapy, Inc. and does not promote or endorse our specific courses, services or training.

Treatment2go is an AOTA Approved Provider of professional development. PD approval ID #3397. This distance learning-independent activity is offered at 0.3 CEU's, intermediate, foundational Knowledge. The assignment of AOTA CEU Does not imply endorsement of specific Course content, products, or clinical Procedures by AOTA.