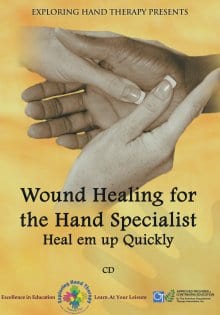 Wound Care for the Hand Specialist: Heal em up Quickly!
CONTACT HOURS:
4.5 Hours
CEU:
0.45
AOTA:
Domain of OT, OTP,

Check Accreditation

NBCOT®:
5.5 PDUs
STATE:
CA 40-H37 4.5hrs
FL 20-171809 4.5hrs

This interactive course is in movie format. The course instructors will present a comprehensive program for management of patients' wounds.
All courses single user only. Click Here for multi-user or licensure discounts info.
Description
*University & multi-center Licensure available upon request; all courses single user only
*5.5 NBCOT® PDUs
*Watch on your idevices, smart phones, tablets and MORE
Domain of OT, Occupational Therapy Process
This interactive course is in movie format. This course is excellent for occupational and physical therapists, therapy assistants, and physicians. This course is an intermediate learning level. The course instructors present a comprehensive program for management of wounds. Learn about the medical and therapeutic modalities involved in evaluation and treatment of various stages of wounds. Learn tips tricks, and techniques you can use immediately in your clinical practice. Instructional Methods include PowerPoint presentation, lecture, physician interview and demonstration. Wound Tips Tricks and Trivia is a great compliment to this course!
Mixed level learning course. Upon successful completion of the examination (80%) your certificate will be sent via email. Mixed level course.
Objectives
Become familiar with wound phases and classifications
Review case studies with a physician
Introduce a variety of therapy techniques
Listen to the physicians approach to wound management
Be introduced to a wide range of modalities for wound healing
Be introduced to a variety of moist wound healing products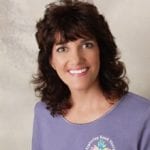 Nancy Falkenstein, OTR/L, CHT received her degree in Occupational Therapy from Medical University of South Carolina in 1990 and her Certification in Hand Therapy in 1996. Prio to receiving her degree she served in the US Navy as a Religious Program Specialist. . Nancy is an international speaker on hand and upper extremity pathologies.
Participants have one year to access the CEU course and exam to obtain CEUs.
Treatment2go is an AOTA approved provider ID #3397. The assignment of AOTA CEUs does not imply endorsement of specific course content, products, or clinical procedures by AOTA.
NBCOT® is a registered trademark of the National Board for Certification in Occupational Therapy, Inc. and does not promote or endorse our specific courses, services or training.