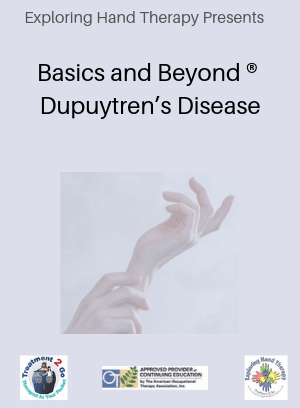 Basics and Beyond ® Dupuytren's Disease
CONTACT HOURS:
2.25 Hours
CEU:
0.225
AOTA:
Domain of OT, OTP,

Check Accreditation

STATE:
AL Advanced Hand 20-521420 2.25hrs
FL Advanced Hand 20-521420 2.25hrs
CA Advanced Hand 40-H52 2.25hrs

For Bundle discounts Click Here! B&B Dupuytren's focuses on understanding the practical aspects of the disease and interventions A complex therapeutic matter in the orthopedic realm
All courses single user only. Click Here for multi-user or licensure discounts info.
Description
This course is part of the Basics and Beyond series. The series consists of 20 courses. This is one of the courses: Dupuytren Disease. It is exceptional for CHT exam preparation as well as to sharpen your clinical skills for DD. Available as a single course or in bundles Click Here!
Domain of OT, Occupational Therapy Process,
B&B Dupuytren's Disease focuses on understanding Dupuytrens disease process, interventions and rehabilitation. This course is great to gain your foundation and beyond for clinical assessments and CHT preparation.
Mixed level: Intermediate. Online digital book, with multiple photos,18 Brain Game quizzes throughout the course to solidify your knowledge. ONLINE LIVE CHAT and discussion board. 80% or higher to redeem your certificate via an online exam consisting of 20 questions or more. Certificate will be immediately emailed to you upon successful completion.
Objectives
This course has 18 Brain Game "pop-up" quizzes throughout the course content and numerous photos to enhance your learning. This course has "live chat" with an EHT moderator during the course and it has a discussion room for course participant interaction.
Recognize clinical signs of Dupuytren's Disease (DD)
Identify complications associated d with various interventions
Differentiate between the various "surgical" interventions
Determine best treatment intervention for post/op DD
Recognize hand therapy intervention pre and post DD
Outline
History
DD Presentation
DD Factors
Non-operative Interventions
Surgical Interventions

Fasciectomy, Needle, & Collagenase

Post-Op Rehabilitation

Wound care
Edema Management
Orthotic Intervention
Post PIPJ contracture correction
ROM, Strengthening, and Modalities

Functional Assessment
Additional Resources
Bibliography
Examination Therapist Name/Credentials: Kelly Lee O'Connor MS, OTR/L, CHT is an Occupational/Certified Hand Therapist for NovaCare Rehabilitation's Horsham outpatient physical therapy center located at 721 Dresher Road, Suite 2100 Horsham, PA 19044 She has achieved success in the treatment of Elbow, Wrist, and Hand injuries by earning her Certification in Hand Therapy in 2009. She has earned a Bachelor's of Science from Saint Joseph's University in 1999, and a Master's of Science in Occupational Therapy in 2004 from Philadelphia University.
After graduating from Philadelphia University she was an adjuct faculity member for 8 years, and had the pleasure of educating incoming Occupational Therapy students on Anatomy concepts and Rehabilitative Concepts used in the clinic. Kelly Lee O'Connor's Vision is to treat musculoskeletal injuries/conditions promptly and effectively by establishing a professional and personal rapport with her clients in order to return them to full their fullest functional ability. She enjoys educating and treating clients with Lateral Epicondylitis (Tennis Elbow) and Dupuytren's Disease postoperatively. Her goal is for her clients to fully understand their rehabilitative process, including a clear description of their condition and how therapy will benefit them.
Participants have one year to access the CEU course and exam to obtain CEUs.
NBCOT® is a registered trademark of the National Board for Certification in Occupational Therapy, Inc. and does not promote or endorse our specific courses, services or training.

Treatment2go is an AOTA Approved Provider of professional development. PD approval ID #3397. This distance learning-independent activity is offered at 0.225 CEU's, intermediate, foundational Knowledge. The assignment of AOTA CEU Does not imply endorsement of specific Course content, products, or clinical Procedures by AOTA.