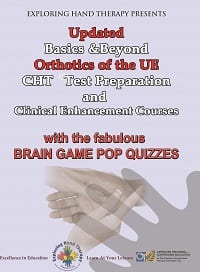 Basics and Beyond ® Orthotic Fabrication
CONTACT HOURS:
4 Hours
CEU:
0.4
AOTA:
Domain of OT, OTP,

Check Accreditation

STATE:
AL CE Broker 489261 4hrs
FL CE Broker 489261 4hrs
CA Advanced Hand 40-H63 4hrs

For Bundle discounts Click Here! BB Orthotic Fabrication focuses on key areas to improve your clinical knowledge and skills pertaining to orthotic fabrication.
All courses single user only. Click Here for multi-user or licensure discounts info.
Description
This course is part of the Basics and Beyond series consisting of 20 chapters. It is exceptional for CHT exam preparation as well as to sharpen your clinical skills. Available as a single course or in bundles. Click Here!
Domain of OT, Occupational Therapy Process,
BB Orthotic Fabrication focuses on key areas to improve your clinical knowledge and skills pertaining to orthotic fabrication.; as well as, to identify problem areas, establishes a baseline of functional performance, and provides you with an attainable Plan of Care (POC). This course is great to gain your foundation.
Mixed level: Intermediate. Online digital book, with 2 video clips, 51 photos, 19 Brain Game quizzes throughout the course to solidify your knowledge. ONLINE LIVE CHAT and discussion board. 80% to redeem your certificate via an online exam consisting of <20 questions. Certificate will be immediately emailed to you upon successful completion.
Objectives
This course has 40 Brain Game "pop-up" quizzes throughout the course content and 105 photos to enhance your learning. This course has "live chat" feature with an EHT moderator during the course hours and it has a discussion room for course participant interaction.
Distinguish between types of orthotics
Distinguish proper material properties depending on design and type of orthosis
Identify key anatomical landmarks critical for orthotic fabrication
Identify orthoses classification
Recognize design principles for both mobilization and immobilization orthoses
Identify the hand anatomy and how orthotics will improve altered pathology
Review orthotic interventions and how they will influence postoperative care of the upper extremity
Determine how orthotics will be used to modify the biomechanical principles of muscle function
Visualize tissue healing as it related to orthotic application to facilitate healing
Outline
Introduction
Terminology
Types of orthoses and material
Properties
Anatomical considerations
Determining proper orthosis
Design principles
General precautions
Orthoses classification
Commonly fabricated orthoses
Mobilization orthoses
Creative ideas
Additional orthoses
References
Examination requires 80% to pass and redeem your certificate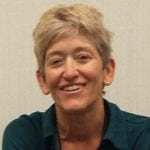 Debby Schwartz is a certified hand therapist with over 30 years of experience as a practicing clinician. She joined Orfit Industries America to promote product awareness and splinting education. Debby is an active member of ASHT and has participated in IFSHT meetings as well. She has presented on a variety of hand therapy topics both at national and international conferences, and has written a number of articles for hand therapy publications, including a literature review of static progressive orthoses and a systematic review of joint mobilizations. She has recently written several book chapters for hand therapy references, including a chapter on pediatric orthoses. Debby completed her Doctorate of Occupational Therapy from Rocky Mountain University of Health Professions.
Participants have one year to access the CEU course and exam to obtain CEUs.
NBCOT® is a registered trademark of the National Board for Certification in Occupational Therapy, Inc. and does not promote or endorse our specific courses, services or training.

Treatment2go is an AOTA Approved Provider of professional development. PD approval ID #3397. This distance learning-independent activity is offered at 0.4 CEU's, intermediate, foundational Knowledge. The assignment of AOTA CEU Does not imply endorsement of specific Course content, products, or clinical Procedures by AOTA.