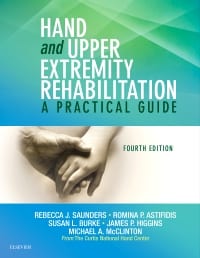 Hand and Upper Extremity Rehabilitation: A Practical Guide 4th Edition (Saunders) NO CE BOOK ONLY!
This introductory book is an excellent resource for your clinics and for an overview of treatment guidelines for conditions commonly seen in your hand clinics. NOTE: This is not the PURPLE book.
Description

The 4th edition retains the structure of previous editions but has been updated with new chapters and outcomes data. The contributors come from within the Curtis National Hand Center and experts from across the country. The text reviews both conservative and postoperative management. This book is a valuable resource to facilitate quality care of hand and upper extremity patients. NOTE: This is not the PURPLE book.
Sample:


This is NOT the Purple Book!
Clinical outcomes included in each chapter relate clinical expectations to the results of clinical research trials, providing you with the expected range of motion and function based on evidence in the literature.
Highly structured organization makes information easy to find, allowing the text to function as a quick reference in the clinical setting.
Contributors from a variety of clinical settings like hand therapy clinics, hospitals, and outpatient clinics means you get to learn from the experience of clinicians working in diverse clinical contexts like yourself.
Over 400 line drawings and clinical photographs delineate important concepts described in text.
Chapters divided into eight parts – Wound Management, Nerve Injuries, Tendon Injuries, Shoulder, Elbow, Wrist and Distal Radial Ulnar Joint, Hand, and Special Topics – so information can be located quickly.
51 leading experts offer fresh insight and authoritative guidance on therapeutic approaches for many common diagnoses.
Treatment guidelines presented for each stage of recovery from a wide range of upper extremity conditions.
608 pages