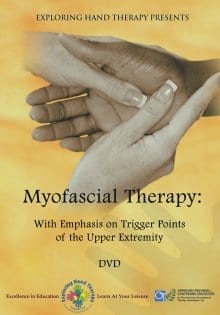 Myofascial Therapy with Emphasis on Trigger Points
CONTACT HOURS:
4.25 Hours
CEU:
0.425
AOTA:
Domain of OT, OTP,

Check Accreditation

NBCOT®:
5.25 PDUs
STATE:
AL 20-171425 4.25hrs
FL 20-171425 4.25hrs
CA 40-H75 4.25hrs

This interactive course is in movie format. This course will cover myofascial therapy of soft tissue origin of the upper extremity trigger points.
All courses single user only. Click Here for multi-user or licensure discounts info.
Description
*California advanced hand 40-H75 4.25 hours
*University & multi-center Licensure available upon request; all courses single user only
*Watch on your idevices, smart phones, tablets and MORE
Domain of OT, Occupational Therapy Process
This interactive course is in movie format. This course will cover myofascial therapy of soft tissue origin of the upper extremity trigger points. Some common cumulative trauma musculoskeletal disorders will be discussed and how to treat through myofascial therapy. You will view excellent demonstration of trigger point treatment techniques and myofascial therapy of soft tissue origin throughout the course. Instructor takes from pre-trigger point intervention demonstrating low level laser therapy (LLLT) techniques and benefits through post-trigger point exercises. You will also learn about instrument assisted soft tissue mobilization and basic application of the instruments. The instructor will give tips, tricks, and techniques as she takes you from research to clinical application of specific muscle pain pathologies.
Excellent introduction to reducing and treating pain associated with CTDs. Manual provided with excellent photos to enhance your learning experience. Note: This course provides conceptual preparation to seek additional training, and does not provide you a mentored hands-on skills session. Please seek additional experience, with a mentor, to perform hands-on skills. Upon Successful completion of the examination (75%) your certificate will be sent via email.
Objectives
Review anatomy of a muscle
Review common pain definitions and be able to identify at least 2
Introduction to LASER basic physics
Review LASER application in conjunction with trigger points
Be introduced to upper extremity trigger points associated with musculoskeletal disturbances
Become familiar with stretches for specific muscles and list two stretches
Become familiar with identifying trigger points in the upper extremity and list 3
See demonstrations of post-trigger point therapy exercises of the UE
Be introduced to some tips, tricks, & techniques for treating musculoskeletal disturbances
View a demonstration of instrument assisted soft tissue mobilization techniques
Outline
Pain definitions
Anatomy of a muscle
Treatment techniques
Low Level Laser Therapy intervention techniques
Specific trigger point therapy techniques
Muscle stretches
Myofascial massage
Instrument assisted soft tissue treatment
Post-trigger point treatment modalities & exercises
Precautions & contradictions of trigger point therapy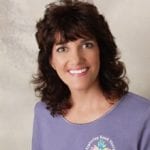 Nancy Falkenstein, OTR/L, CHT received her degree in Occupational Therapy from Medical University of South Carolina in 1990 and her Certification in Hand Therapy in 1996. Prio to receiving her degree she served in the US Navy as a Religious Program Specialist. . Nancy is an international speaker on hand and upper extremity pathologies.
Participants have one year to access the CEU course and exam to obtain CEUs.
NBCOT® is a registered trademark of the National Board for Certification in Occupational Therapy, Inc. and does not promote or endorse our specific courses, services or training.

Treatment2go is an AOTA Approved Provider of professional development. PD approval ID #3397. This distance learning-independent activity is offered at 0.425 CEU's, intermediate, foundational Knowledge. The assignment of AOTA CEU Does not imply endorsement of specific Course content, products, or clinical Procedures by AOTA.