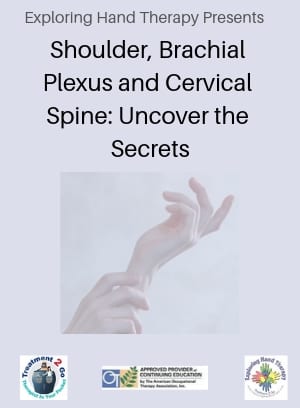 Shoulder, Brachial Plexus and Cervical Spine: Uncover the Secrets
17.75 AOTA hours! All 5 purchased individually from the site costs: $683.00 This custom promotion is only: $299.99 that is close to a 60% discount! This dynamic package will exceed your expectations.
Description
This package was created for those who asked us for a comprehensive program on the cervical spine, brachial plexus and the shoulder. A comprehensive approach to the upper quadrant. Learn tips and tricks from experts in the field.
HOT off the press and UPDATED- WOW!!! CHTs love this package promotion!
Custom created for comprehensive approach to the upper quadrant
AOTA approved CE hours
Top Notch Instructors
Up close anatomy dissection, assessment techniques, and treatments of the proximal arm will enhance your skills.