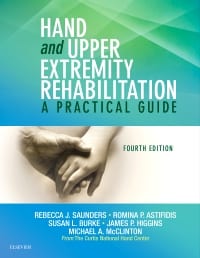 Hand and Upper Extremity Rehabilitation: A Practical Guide 4th Edition (Saunders) with AOTA Approved CE
CONTACT HOURS:
12 Hours
CEU:
0.12
AOTA:
Domain of OT, OTP,

Check Accreditation

NBCOT®:
15 PDUs
STATE:
This is NOT the Purple Book – This introductory book provides 12 AOTA CE hours after completion of an online exam and the book provides an excellent resource for your clinics and for an overview of treatment guidelines for conditions commonly seen in your hand clinics.
Description
This is NOT the Purple Book – This CE course is designed to review introductory hand care. The 4th edition retains the structure of previous editions but has been updated with new chapters and outcomes data. The contributors come from within the Curtis National Hand Center and experts from across the country. The text reviews both conservative and postoperative management. This book is a valuable resource to facilitate quality care of hand and upper extremity patients.
Objectives:


Identify the stages of wound healing
Review the definitions of flaps and grafts and the types.
Review terminology regarding sensibility testing and sensibility with relates to functional use of the hand
Identify compression sites of median, ulnar and radial nerves and how they affect a persons function.
Review conservative treatment for thoracic outlet syndrome
Review tendon transfers used to improve function after median, radial and ulnar nerve injury.
Review the exercise pyramid used for flexor tendon repairs.
Review the extensor tendon zones and treatment options by zone.
Identify how impingement syndrome, rotator cuff injuries and glenohumeral instability interferes with function.
Identify how elbow fractures are cared for to facilitate function
Review the carpal fractures and how they affect function
Review hand fractures and how they affects hand function
Review terminology relating to amputation and replantation.
Review arthroplasty techniques and the therapeutic goals.
Identify conservative management of the arthritic hand
Review terminology for congenital hand dysfunction
Identify terminology regarding industrial rehabilitation that is designed to return patients to work or play.
FREE SHIPPING USA – you book will arrive in the mail – wait until you receive the book to start your course
NTERNATIONAL ORDERS WILL HAVE SHIPPING FEE ADDED – USA FREE SHIPPING LIMITED TIME
If you want the BOOK ONLY Click Here!
Please put under Comments if you have a different shipping address – Thank you
Clinical outcomes included in each chapter relate clinical expectations to the results of clinical research trials, providing you with the expected range of motion and function based on evidence in the literature
Highly structured organization makes information easy to find, allowing the text to function as a quick reference in the clinical setting.
Contributors from a variety of clinical settings like hand therapy clinics, hospitals, and outpatient clinics means you get to learn from the experience of clinicians working in diverse clinical contexts like yourself.
Over 400 line drawings and clinical photographs delineate important concepts described in text.
Chapters divided into eight parts – Wound Management, Nerve Injuries, Tendon Injuries, Shoulder, Elbow, Wrist and Distal Radial Ulnar Joint, Hand, and Special Topics – so information can be located quickly.
51 leading experts offer fresh insight and authoritative guidance on therapeutic approaches for many common diagnoses.
Treatment guidelines presented for each stage of recovery from a wide range of upper extremity conditions.
Treatment guidelines presented for each stage of recovery from a wide range of upper extremity conditions.
608 pages