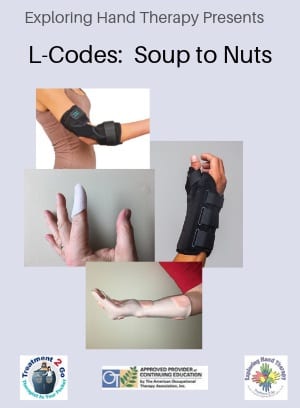 CONTACT HOURS:
1.5 Hours
CEU:
0.15
AOTA:
Domain of OT, Professional Issues,

Check Accreditation

NBCOT®:
2 PDUs
STATE:
AL BOARD 1.5hrs
FL AOTA #3397 1.5hrs

There seems to be constant coding and documentation changes, pressure to increase efficiencies as reimbursement continues to decline, and the need and desire to stay on top of the latest clinical outcomes and literature that drive protocols and treatments. It is difficult to keep up on all of the things that affect our practice. This course is designed as an overview to understand all things L Codes
Description
Description:
There seems to be constant coding and documentation changes, pressure to increase efficiencies as reimbursement continues to decline, and the need and desire to stay on top of the latest clinical outcomes and literature that drive protocols and treatments. It is difficult to keep up on all of the things that affect our practice. This course is designed as an overview to understand all things L Codes (hence soup to nuts – who really ends with nuts for dessert)? If you can relate to any of these statements or questions, then this course is for you! What is an L Code? I can only bill custom fabricated splints. How much should we charge for that orthosis? I still use CPT codes to bill for splints. I don't understand what a split code is? How do I know what L code to bill? I don't know if I need a DME license or not?
Understanding terminology related to orthotic billing and coding
Understanding L Code Definitions
Understanding L Code Definitions
Identifying L Codes for common custom fabricated orthoses
Identifying L Codes for common prefabricated orthoses
Understanding costs and fee schedules
Identifying related CPT codes and knowing when to use them
Understanding the basics to a DME license
Implementing the information into your practice
L Codes Defined
PDAC
Commonly used L Codes for Custom Fabricated Orthoses
Pictures and Examples
Commonly used L Codes for Prefabricated Orthoses
Costs, Fees, Billing
Fee Schedules
Non-Covered Items
CPT Codes
DME basics
FAQ
Pictures and Examples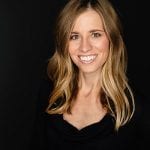 Jamie McMillan has been the director of upper extremity products for Hely and Weber since 2015. Prior to that she worked as a hand therapist since 2000 after graduating from University of Mary in Bismarck, ND. Jaimie did her first successful product launch in 2010 and was issued a patent on her MTC fracture brace in 2014. She has authored various topics and articles and recently authored a chapter in: "Prefabricated Orthosis" 3rd Edition for Orthotic Intervention for the Hand and Upper Extremity: Splinting Principles and Process in 2018.
Participants have one year to access the CEU course and exam to obtain CEUs.
Treatment2go is an AOTA approved provider ID #3397. The assignment of AOTA CEUs does not imply endorsement of specific course content, products, or clinical procedures by AOTA.
NBCOT® is a registered trademark of the National Board for Certification in Occupational Therapy, Inc. and does not promote or endorse our specific courses, services or training.