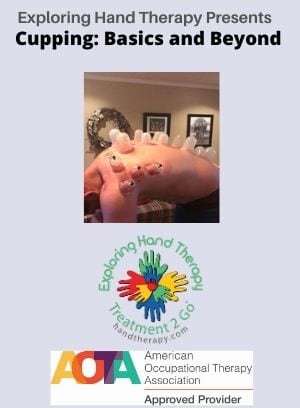 Cupping Basics and Beyond Bundle
Includes Cupping Premium Set of 6
CONTACT HOURS:
6 Hours
CEU:
0.6
NBCOT®:
7.5 PDUs
STATE:
AL BOARD hrs
FL NBCOT hrs

LIMITED TIME: Comes with 6 FREE Cups ($49.99 dollar Value) The biomechanical and occupation based approach to care is used when applying the cupping technique. Therapists create a balance and facilitate overall function for their patients.
All courses single user only. Click Here for multi-user or licensure discounts info.
Description
Description:
Cupping is a super easy modality to practice, but to practice it with expert skill, and to fully understand the indications, cautions, and contraindications of cupping therapy (any powerful modality will have risks involved) it is highly advisable to take a well researched and respected training. Like any modality, there are many levels of skill that can be achieved, and many approaches to practice.
Objectives:


Review history of cupping
Identify precautions/contraindications for cupping
Determine appropriate cupping treatment intervention based on target tissue and desired effect
Observe basic cupping treatment techniques and patterns based on clinical reasoning
Review research articles and the effects of cupping intervention
Visualize detailed cupping sessions and then do breakout sessions and practice cupping technique via video-based learning
Chapters:

6 FREE Cups at check-out – Limited Time Opportunity ($49 dollar value – these only ship free to USA.) If you are out of USA please know we will connect with you about shipping promotion.
Indications & Application
Clinical Reasoning & Documentation
Video Demonstration & Breakout practice modules
Putting It All Together
Case studies and in-depth demonstrations, including safety precautions throughout
Watch and learn how to cup for scars
How to cup with nerve and tendon gliding
How to cup to treat myofascial pain
How to cup for trigger point and fascial restrictions
Level 1 Cert. CCS (Certified Cupping Specialist) after successful completion of the online exam
Participants have one year to access the CEU course and exam to obtain CEUs.
NBCOT® is a registered trademark of the National Board for Certification in Occupational Therapy, Inc. and does not promote or endorse our specific courses, services or training.

Treatment2go is an AOTA Approved Provider of professional development. PD approval ID #3397. This distance learning-independent activity is offered at 0.6 CEU's, intermediate, foundational Knowledge. The assignment of AOTA CEU Does not imply endorsement of specific Course content, products, or clinical Procedures by AOTA.